Today we are going to take a look at some of the worst burgers you can get your hands on in America! In this list we will look at burgers from fast food and sit down restaurants. A hamburger done right isn't a terrible nutritional choice. Topped with some lettuce and tomato, ketchup and mustard, and a relatively small bun, it's is a high-protein treat that shouldn't pack too much fat.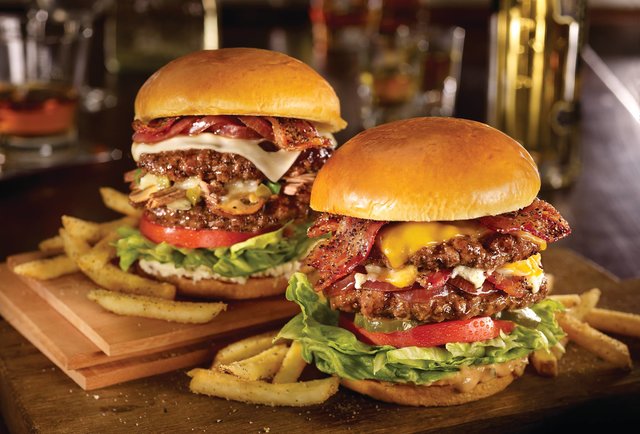 THE WORST FAST-FOOD BURGER
Hardee's and Carl's Jr. ½ Lb. Thickburger El Diablo
1,380 calories, 92 g fat (31 g saturated fat), 3,830 mg sodium, 84 g carbohydrates
That's the Fat and Sodium Equivalent of: 3 whole Big Macs! Hardee's and Carl's Jr. take misplaced pride in their shamelessly caloric approach to everything they put under a heat lamp, which is probably reason enough for some to find another place to eat. Need more motivation? This burger is named after The Devil! Many of their offerings break the perilous 1,000-calorie barrier; but this bunbuster has nearly 75 percent of your entire day's calories and as much fat as a dozen Taco Bell soft beef tacos.
THE WORST SIT-DOWN BURGER
Ruby Tuesday's Portabella Crispy Onion Pretzel Cheeseburger
1,659 calories, 95 g fat (N/A saturated fat), 3,086 sodium, 130 g carbohydrates
That's the Carb Equivalent of: Shotgunning 10 slices of Wonder Bread! Ruby Tuesday's ditched their "Colossal Burger," which equaled six regular burgers at DQ. But they still offer the country's worst sit-down burger, adding a healthy portabella mushroom, but then piling on crisp onion straws and chipotle mayo, and topping it all with a salted pretzel as a bun.
THE FATTIEST BURGER
Denny's Double Cheeseburger
1,120 calories, 67 g fat (32 g saturated fat, 4 g trans fat), 2,150 sodium, 49 g carbohydrates
That's the Trans-Fat Equivalent of: 8 Whopper Jrs. piled high! The FDA just moved to ban trans-fats, deeming them "not generally recognized as safe" Because they turn solid once they're inside your body, where they jam up your arteries, including those in your brain. Remember that next time you sit down at Denny's. This burger has 2 days' worth of the stuff.
THE WORST BURGER AT MCDONALD'S
Bacon & Cheese Sirloin Third Pound Burger
810 calories, 41 g fat (18 g saturated fat, 2 g trans fat), 2,060 sodium, 65 g carbohydrates
That's the Sodium Equivalent of: 68 Rold Gold pretzels! Despite locations closing, the irony is, McDonald's has tried to clean up its act in recent years, eliminating trans-fats from its oils, reducing the number of calorie bombs and adding healthy options like yogurt, salads—even kale. Burger-wise, the chain is one of the least offensive when compared to the gut-busters on this list, but they're still the cheapest and easiest option for most Americans, making them a dangerous purveyor of affordable options that'll make you fat.