There are so many wild and crazy-looking burgers in this world, we didn't even know where to begin! But we found some that are just too strange for us to keep quiet about. So here they are, feast your eyes upon some of the world's most questionable burgers.
Burger King Japan's Red Burger
Made with your choice of either a beef or chicken patty, Burger King's new "Red Burger" is made with red, yes we said it, red cheese along with red hot sauce made from miso and hot pepper, lettuce, tomatoes, and is placed between two red buns. According to Burger King, they claim to have stayed away from Red No. 40 food coloring and instead, use tomato powder to give their patty it's color. Seeing all of these colorful burgers, one can't help but think that maybe this burger chain just has a slight obsession with that one episode of Spongebob. Who knows what color they'll toss out next!?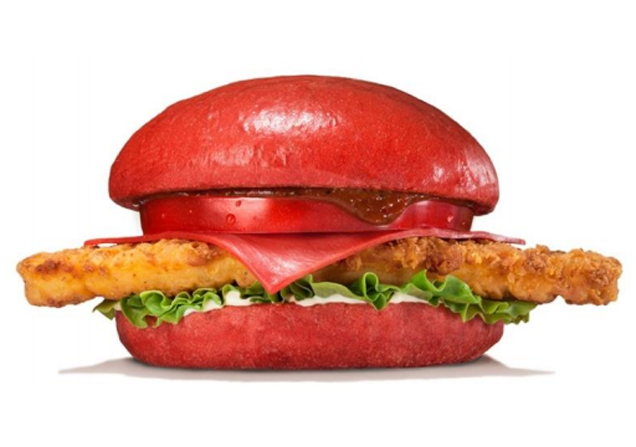 The Burger with 1,000 Slices of Cheese
This is every lactose intolerant persons' worse nightmare. This humongous, completely out-of-this-world-crazy cheeseburger is so insane, it's hard to imagine what the people making this burger must have been thinking. Obviously they must have thought of it as a joke at first, but that was soon proven to not be the case at all when a local Japanese man who goes by the name of "Mr. Sato" took this gigantic cheese monster back home with him and filmed himself eating it!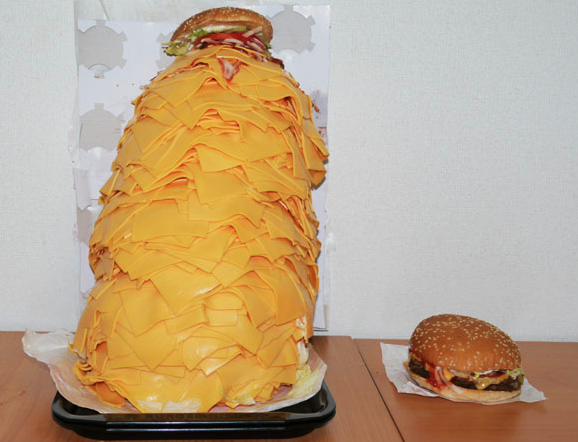 The Lasagna Burger
Lasagna is probably my second favorite food, right behind cheeseburgers. But this being said, i'm not exactly sure how I feel at the thought of both of these foods being combined. But hey, if you can manage to stomach it then you are a true hero and all the more power to you.
The Douche Burger
After having seen the New York restaurant Le Burger Extravagant win a Guinness World Record for having the "World's Most Expensive Burger", the crew over at 666 Burger Food Truck decided that they wanted to compete as well and beat their rival by any means necessary. Which meant that they would have to create their own burger, give it a ridiculous price, and hope that someone actually buys it in order for them to claim the new title. However, they successfully did just that when they created "The Douche Burger" which costs $666. This burger contains a Kobe patty stuffed with foie gras wrapped in gold leaf with caviar, with lobster and truffles piled on top, Gruyere melted with Champagne steam and a BBQ sauce made from Kopi Luwak coffee (one of the world's most expensive coffees). Even though this burger may have someone thinking that it was made out of gold, it was ultimately supposed to be a joke. That is, until someone bought it!