It's more than clear to everyone that one of the most successful burger chains in today's history is the one and only Burger King, or as many refer to it, "BK". But how did this world wide famous chain become the mega corporation that it is today? Founded in 1953 in Jacksonville, Florida, Burger King was originally named "Insta Burger King". The chain's founder and original owner, Keith J. Kramer, was visiting the original McDonald's when the idea struck him that he should open up his own restaurant. Alongside one of his relatives named Matthrew Burns, the pair purchased the rights to two pieces of equipment called "insta" machines and opened their first restaurant. Although they had a successful start, in 1959 the company began to lose its momentum. To save it, it was purchased by two franchisees named James McLamore and David R. Edgerton in Miami, Florida. After now being held under new management, "Insta Burger King" was later changed to "Burger King". For eight years the pair ran the company before finally selling it to Pillsbury Company in 1967. Pillsbury management tried several times to restructure Burger King in the late 1970's and early 1980's. In 1978, they hired a McDonald's executive named Donald N. Smith to help give the company a much needed helping hand. After constructing a plan, Donald restructured corporate business practices for every level of the company. Among these changes were updated agreements, more standardized restaurant designs, and a more lively menu.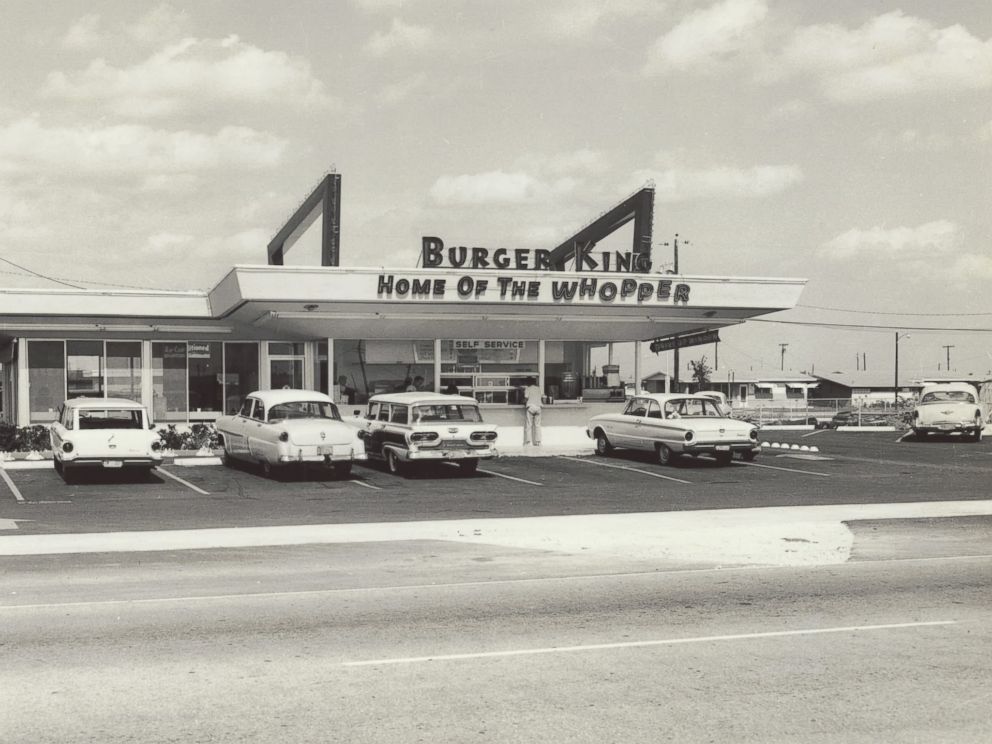 When Burger King Corporation began franchising in 1959, it used a regional model where franchisees purchased the right to open stores within a geographic region. These franchise agreements granted them a very small amount of oversight control of its franchisees and resulted in issues of product quality control, store image and design, and operational procedures. Sometime around 1980 there was a large system-wide decline in sales. Donald N. Smith had just left the company for Pepsi Co., and Pillsbury executive VP Norman E. Brinker was hired to take his place and turn the company around. To strengthen themselves to become more popular than McDonald's, one of Norman's initiatives was to start a new advertising campaign featuring a series of attack advertisements against its major competitors. Thus a "Burger War" was created between all competing franchises.
The Logo
The original logo for Burger King used in 1954.
The logo used from 1994 to 1999 that helped inspire the logo Burger King uses today.
The most popular Burger King logo that made its appearance in 1999 and is still being used today.
The Whopper Sandiwich
One of the more popular burgers that have come out of Burger King is known as The Whopper. This beefy burger was created in 1957 by Burger King co-founder James McLamore, after having noticed that a rival restaurant was having much success in selling a larger burger. The name was chosen because he felt that it conveyed "imagery of something big".  Major fast food chains did not release a similar product until the McDonald's Big Mac was introduced in 1967.