Burger chains all put their menus on diets, but summer comes and good intentions melt away. A parade of new items is marching onto burger-chain menus or into their test-market pipelines, and no chain has been more active than McDonald's, which took an oath to streamline its menu. McDonald's is testing a pulled pork sandwich in Indiana. This comes after local markets were given the option to add new Shakin' Flavor Fries to their menus. Some markets are trialing a Signature Double Burger as part of a Lovin' Value Menu. Having already upgraded its grilled chicken with the Artisan product, McDonald's also has been testing a new recipe for its crispy chicken: Buttermilk Crispy Chicken. That has tested in Delaware and Arkansas and should roll wider soon. A Bacon & White Cheddar McMuffin is getting a tryout in Chicago. Then there are new McCafé items: Real Lemonades (classic, frozen strawberry and regular strawberry lemonades); new Peach and Raspberry Sweet Teas; and the Green Apple Smoothie in test in Chicago. Horchata and Oreo Frappés are in many markets, too.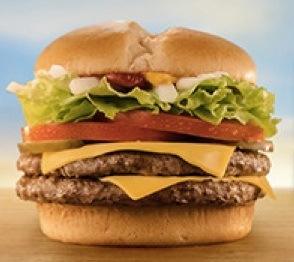 Burger King started with a new Extra Long Pulled Pork Sandwich, but was hungry for more. Now comes the A.1. Hearty Mozzarella Cheeseburger, two quarter-pound patties topped with thick-cut bacon, melted Mozzarella cheese, lettuce, onions, and A.1. Thick & Hearty sauce on a toasted, brioche-style bun. Last month, Burger King was testing $1.99 Grilled Hot Dogs and $1.49 Corn Dogs in Michigan and Maryland, as reported by Consumerist.
Growing chains have loaded their menus, too. Back Yard Burgers has a new three-item Stackers burger line, each of which has two one-fifth-pound patties. The Counter's summer addition is a Carne Asada Burger with grilled skirt steak marinated in fajita seasonings topped with fried tomatillos and served with whipped avocado sauce. Umami Burger will wait until September to unveil its burger developed with actress Mindy Kaling. Burger 21's newest is the Over Easy Bacon Cheesy Burger. So wherever you are this summer, be sure to try one of the new additions to the summer menus.