Every now and then you need to break the normal burger routine, and explore the world of strange burgers. Today we will look at some of the weirdest burgers around.
Nutburger from Matt's Place. Not everyone is a peanut fan, but the people who are will love this burger that has been covered in peanut butter offered
at a restaurant  called Matt's Place, located in Montana. It is basically a regular hamburger, but covered in a topping that is made from chopped peanuts, and mayo. Author of "Hamburger America" said "It's like eating sundae toppings on a burger, its great!"
Luther Burger. Also referred to as the Krispy Kreme burger, this classic was a favorite with singer Luther Vandross, and is where it earned
 its name. This burger is a patty that has been placed between two glazed donuts. This creation is said to of come from a bar named Mulligan's, one day when the chef ran out of buns, they began to use donuts instead!
FattyMelt. Looking for something better than a cheeseburger? Try a burger between two grilled cheese sandwiches! This amazing creation of a burger was originally made by the Mossy Creek Cafe in Fishervill, Virginia, but have since gone out of business. But behind the left the idea, and inspiration to create this burger on your own. If your own recipes prove to be unsuccessful, Serious Eats has instructions that will help you create this burger at home. If you are feeling adventurous, there are even instructions for a bacon version.
Bean Burger. This is not a burger made with just beans, instead it is a Texas specialty that began back at a place called Sills Snack Shack back in 1953. This burger featured cheese wiz, onions, re fried beans, and crushed Fritos. The original Snack Shack has closed down, but two nephews of the creator have opened a food truck offering
all of the famous specials
, which include the bean burger.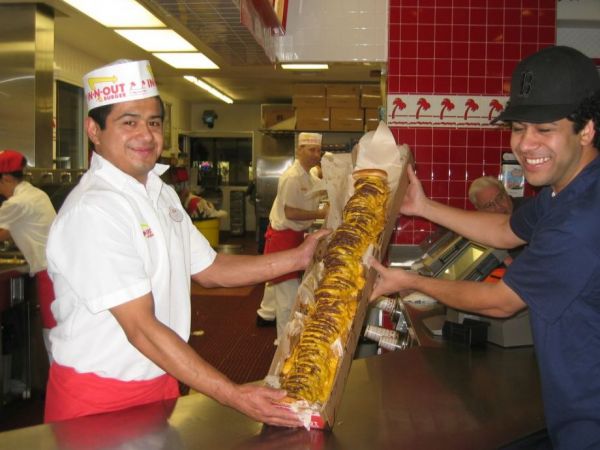 Secret 100 x 100 Burger, In-N-Out. In-N-Out has been known to have a secret menu, and today it has grown to become rather popular. It is almost common knoledge between In-N-Out customers that this secret menu exists
. One of the options is to simply say the number
of patties you want, today the 4×4 is rather popular. One day someone was bold enough to order
the 100×100. The total bill came to be 97.66 it is safe to say no one will beordering it again antime soon.