It's finally back, Daytona! Biketoberfest is rapidly approaching and we've got all the info on how you and your family can enjoy yourself all weekend long! Festivities begin on October 15th and continue on until the 18th and whether you're looking for some sight seeing, places to eat, or what the night life has to offer this year, we here at Burger Web know exactly where you can go to have the most fun. For food and music attractions, we suggest checking out famous Main Street bars like Froggy's, Dirty Harry's, Main Street Station and the Boot Hill Saloon. Not only do they offer live entertainment, but they also have giveaways. If you're looking for somewhere scenic to ride around with your friends, riding through the Ormond Scenic Loop would be the perfect place. It is a 12 – mile long country high way that is surrounded by be
autiful nature and there are even a few picnic spots so you can pull over and have a cook out!
If you're looking for some motorcycle races, ride on over to the high banks of the Daytona International Speedway. There will be plenty to do anywhere you go, whether you're in Daytona, Beach Street, South Daytona, or Holly Hill. The attractions and the fun never stops! With dozens of historic and state-of-the-art venues, the Daytona Beach area has rapidly grown into a world-class music destination. If you want to check out some more of the live music, head over to the Daytona Bandshell. Located on the beach in Oceanfront Park, the historic Bandshell stages a diverse array of musical acts from jazz and country to rock and Latin. There is also a Daytona Blues Festival being held at the Jackie Robinson Ballpark. The popular three-day event features up-and-coming, as well as nationally known blues artists.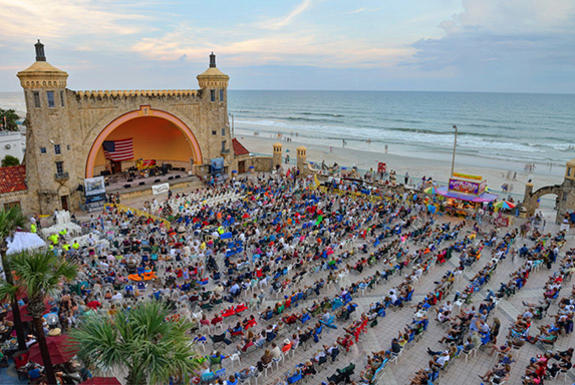 A new addition to the area's growing music scene is the Daytona Beach Music Festival, which is also being held at the Daytona Bandshell. A competitive and educational opportunity for youth bands, orchestras and choirs, the Daytona Beach Music Festival strives to teach music through performance. If your Daytona vacation doesn't include a multi-day music event, there are plenty of area bars and restaurants showcasing local musical acts. With so many things to do and places to see, it would be impossible to not have something to do this weekend! Whether you're a local, tourist, or you're just passing through, remember to have fun, take plenty of pictures to share with your friends and family back home, and most importantly……….be safe!