Ahhh, weddings. The day that so many spend their lives dreaming about. There are so many ways to plan a wedding, it's no wonder why some even begin to plan while they're still young and haven't even met their future partner yet! Some people like to plan their weddings very traditionally. For example, an extravagant white dress, fancy hairdo, black tux, big ceremony either somewhere outside on the beach or in a church, and champagne and slow dances in the evening. Others like to add their own twist to it. They do something out of the ordinary and try to make their wedding more fun and humorous instead of the typical romantic, serious style. That actually made me curious to know just how some people make their weddings extra different, which led me to finding something that is just too perfect for words. Instead of the traditional cake, some people have actually replaced it with burgers. But not just with any regular burgers, i'm talkin'  about massive, fit for a king burgers! Check out some of these couples' wild wedding "cakes" and see for yourself just how beautiful a burger wedding can be.
Burger Cakes
This couple truly exceeded at having one of the most incredible looking burger cakes around. Just look at that tower – it's amazing! Beautiful gourmet burgers for a beautiful bride and groom. Now this is a wedding I wish I had been invited to!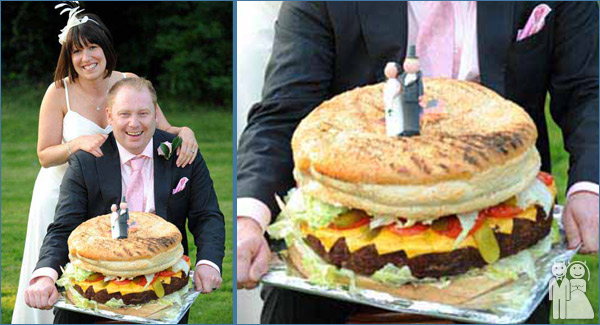 Whoa, mama. This burger is so huge, we might just have to add it to our "Monster Burgers" story! This couple are probably using this burger in their wedding pictures instead of having it at their ceremony because they don't want to share it with everyone else….which is exactly what I would do too! This happy couple may not want to share their big sized burger, but they do have lots of smiles to share.
Now this just may be the ultimate burger wedding! This couple has no burger cake to be shown, but they did go as far as having an entire Burger King themed wedding. Why? Simple. The groom's name is Joel Burger and the bride's name is Ashley King. After hearing about their announcement, Burger King actually agreed to sponsor their entire wedding! This lovely couple had every little detail at their wedding covered with the Burger King logo. The wardrobe, the wedding pictures, everything! The couple originally placed their wedding announcement in the local news paper as a joke. But soon the word spread about this royal pair and went completely viral. That's when the only and only BK agreed to pick up their wedding tab. They had the wedding of a life time and Mr. and Mrs. King now have the most humorous memories to share with their friends and family for the rest of their lives!